Facilities
Fishing, Boating, Skiing…
Apple Valley Lake offers a wonderful selection of water-related activities almost year round to it's residents.
Fishing: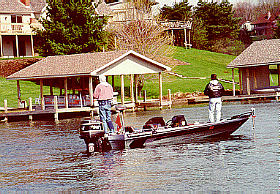 Apple Valley Lake is a premier fishing lake. Many species can be caught such as large and small mouth bass, stripped bass, walleye, perch, crappie, shell cracker, cat fish and blue gill. The lake was originally stocked in 1974 with walleye, brown trout, rainbow. Since that time the Fish Club and the Property Owners Association have had "specks" stocked to cross breed with the crappie and striped bass have also been introduced to the fish population. Walleye is still the prize catch.
Boating: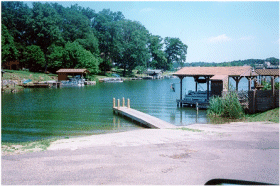 All kinds of power and non-powered boats are found at Apple Valley Lake. The size of speedboat is limited to 21.5 feet and pontoon boats are limited to 28 feet.There is now a limit of 300 hp on pontoon's. All Ohio Boating regulations are enforced by a Water Safety Patrol which is made up of property owners and off duty Knox County Sheriff Deputies. Boating is restricted to property owners only and must be registered by the association for a small fee. Jet skis and wave runners are allowed, however, Ohio"s age limit is strictly enforced. There are four boat launches for access to the lake.
Water Skiing:
This popular warn weather sport is enjoyed by many residents of Apple Valley. The lake itself is nearly 4 miles long and the permitted ski zone is about 3 miles in length. There is plenty of space for all even on the nicest weekends.
Apple Valley Beaches…
All beaches have picnic facilities including tables and barbecue grills, beach house with restrooms and changing facilities, children's playground with swings, merry-go-round, saddle mates, and sliding board, paved parking lot, lifeguards on duty as specified, maintained grassy areas for fun and games or just relaxing.
Davis Beach:
The swimming area at Davis beach is approximately 200 feet long and total common area frontage on the lake is approximately 1600 feet. Davis beach has picnic facilities such as tables and barbecue grills. Volleyball court and common docks are also available along with new shade shelters.
King Beach:
The swimming area is approximately 200 feet long and total common area frontage on the lake is approximately 700 feet. King beach has picnic facilities such as tables and barbecue grills. Volleyball court and common docks.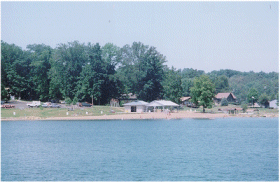 Sutton Beach:
The swimming area at Sutton beach is approximately 400 feet long and total common area frontage on the lake is approximately 800 feet. Sutton beach has picnic facilities such as tables, barbecue grills, shelter tables, common docks, sand volleyball, and handicapped fishing pier.
Apple Valley Clubhouse…
Clubhouse: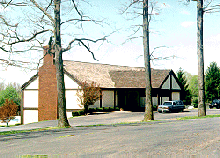 A two story building of 6,432 square feet including two kitchens, two fireplaces, two furnished and carpeted lounge areas, lockers, changing areas, saunas, fitness center with option for dry heat or moist heat, showers, restrooms, vending machines, large deck and color television.
Outdoor Swimming Pool:
The 2,400 square foot pool has a 90,000 gallon capacity; it is 3 to 9 feet deep with diving board; heated by bottled gas; sand filter; completely fenced in; wading pool for children.


Sports Areas: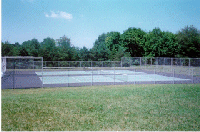 Shuffleboard area and equipment, basketball court and outdoor clay horseshoe pits.


Fitness Center:
Open everyday from 4:30 A.M. to 11 A.M. and 3 P.M. to 9 P.M. and requires a fitness membership and a property owner may take up to 2 guests. Guest fee is now $2.00/person.. There are treadmills, stationary bike, stairmaster, rowing machine, power rider, eliptical fitness crosstrainer, weight machines including weight bench, hand held free weights and attendant on duty. A playroom with a window to check on your children with tv/vcr, bean bags, and books are available.
Picnic Area:
The picnic area has tables and barbecue grills, and the childre's playground has saddle mates, sliding board, swing and merry-go-round.
Apple Valley Marina…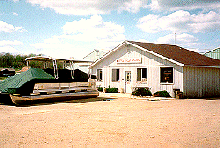 The private marina provides outside and indoor boat storage, mechanical work and gas pump. A small store located at the marina provides fishing and water sports supplies. Three launch points serve the recreational boaters and fisherman alike. Located at the north end of the lake.


Administration Building…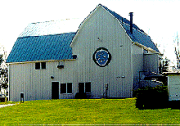 A 4,560 square foot, two story building. Houses the Apple Valley Property Owners Association Offices.



Campers Village…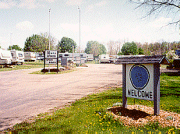 The campers Village has 166 sites and 17 primitive sites for RV camping or tent camping. Water and electricity available, tables, fire rings, grey water drains, laundry facilities, and bath house with showers. Ice and Firewood are sold, childrens playground, picnic shelter, and a location to leave your boat. Property owners only.


Floral Valley Center…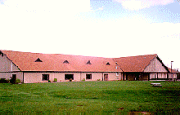 Built in 1985, this 80 x 120 foot building is used for Apple Valley functions and meetings. The center has kitchen facilities designed for preparation of large dinners, two deep fryers, two ovens, refrigeration, microwave, and steam tables. The lounge is equipped with a television, VCR, library and card tables, and indoor recreation such as shuffleboard, ping pong, pool tables, board games, and puzzels. In winter months the center is used for roller skating on Fridays.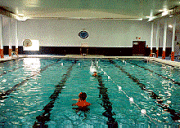 Floral Valley Indoor Heated Pool:
The pool inside Floral Valley Community Center, is 3,699 square feet with a 167,400 gallon capacity, and is 4 to 9 1.2 feet deep, with a 1/2 meter diving board.


Golf Course…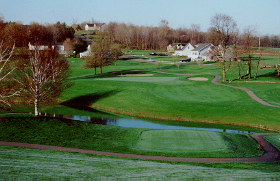 Apple Valley is a resort community located in north-central Ohio 50 miles from Columbus. It boasts a 550 acre lake, clubhouse, indoor swimming pool and recreation center. It also is the home of one of the finest conditioned public courses in the state.
The Apple Valley Golf Course is an 18 hole championship course that plays to nearly 7000 yards over rolling hills and woods. It has played host to the NCAA Division III National Championship, the Ohio Public Links tournament, the Ohio Athletic Conference Championship, the N.A.I.A. District 22 Collegiate Championship, the Ohio High School Regional Championship, and other fine local and college tournaments. Since opening for play in 1971, Apple Valley has slowly established itself as the favorite course of many golfing enthusiasts. Its large, fast greens and considerable length make it a difficult test for even the best of golfers. And the huge clubhouse overlooking the golf course is ideal for relaxing while pondering the shots of the day with your playing partners.
The showcase hole of the course would have to be the par 3 fifth. It's a combination of Muirfield's 12th and the 12th at Augusta National. For most players the shot is just iron but it's all carry over a lake to a green bordered by ancient barnstones and surrounded by pine trees and sand traps. A good shot here means a nice chance at birdie but anything misdirected usually means disaster.
The Apple Valley Golf Course is open to the public from March 15 to October 31. Tee times are mandatory on the weekends and holidays and recommended for weekdays. They can be made by calling 740-397-7664 or 1-800-359-7664 dawn to dusk during the playing season.